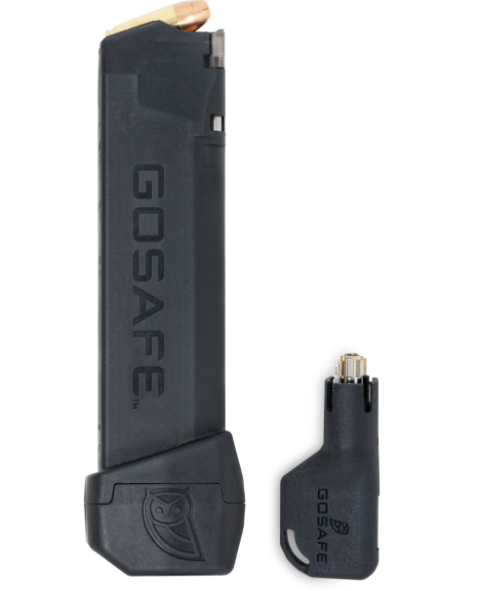 Designed for law enforcement by law enforcement and firearm professionals, GOSAFE is a training, risk mitigation and product company.

Our revolutionary mobile firearm security products reduce the risk of unauthorized use of department firearms—on duty, off duty, or anytime officers are separated from their service vehicle or backup firearm.

GOSAFE™ bolsters proficiency with online training—a series of videos modules with GOSAFE-certified acknowledgment upon completion.
Find out how GOSAFE™ seamlessly integrates with your department. Contact Chris Carlberg for more information.
Loadable & Non-Loadable MOBILE Firearm Security
GOSAFE™ MOBILE MAG
Dual-purpose safe and fully-functioning magazine

GOSAFE™ MOBILE SAFE
Non-loadable magazine-style safe

PROTECT THE GUN THAT PROTECTS YOU
AT HOME

GOSAFE™ allows law enforcement officers to lock their firearm when off duty, and gives the department 24/7 control of their weapons.

STORAGE

GOSAFE™ keeps your firearm locked and secured inside your duty locker, your vehicle, and anywhere you need to store it.

ON THE MOVE

GOSAFE™ quickly locks your firearm for easy transitioning to courtrooms, correctional facilities, and when separated from your firearm.