Anytime law enforcement professionals are separated from their firearm, there is a risk of unauthorized use. Now officers can mitigate that risk with a new type of firearm security – as simple, mobile and accessible as a conventional magazine. GOSAFE adds an extra layer of security when transitioning from home to duty, entering a courthouse or prison and storing a firearm in-vehicle or in their personal residence.
Traditional firearm security devices such as cable locks, trigger locks and safes are cumbersome, limit access and are not carry friendly. They either provide security, but are not portable, or they are mobile, but limit fast access when needed. Now there's a way for officers to keep their sidearm completely secure and accessible only to themselves – even when separated from their duty pistol or backup sidearm.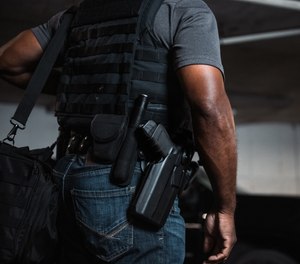 PROVIDING MOBILITY AND FAST ACCESS WHILE REDUCING RISK
GOSAFE is mobile firearm security designed to reduce risk and liability associated with unauthorized or unintended use. GOSAFE is a safe that travels inside your gun. Developed for law enforcement by law enforcement and firearm professionals.
GOSAFE allows officers to personalize their firearm security, giving them complete control and peace of mind. Whether at home, on duty, or in-vehicle, GOSAFE magazines lock the firearm with a personal key, eliminating access to anyone but the officer responsible.
The patented technology allows gun owners a mobile security solution that seamlessly goes from loaded and ready to locked whenever and wherever they are – hence the name "GOSAFE."
REDEFINING FIREARM SECURITY FROM THE INSIDE OUT
Utilizing a magazine style safe, GOSAFE shifts from unlocked to locked and ready to safe in seconds. Its unique-to-user key can be configured for access by individual officer or keyed-alike departmental access when requested. Its internal "flag-on-staff" technology firmly locks behind the trigger so the firearm cannot be fired. With GOSAFE in the locked and safe position, the magazine cannot be removed, even if stolen. A color-coded tactile indicator confirms position status with a raised button near the GOSAFE base.
GOSAFE is available in two versions that provide peace of mind and mitigate risk for professionals in law enforcement and security occupations: 
The Professional Use Mobile Mag:

 

a lockable, portable safe and fully functioning magazine that includes two keys. It loads and functions as a 10-round single-stack magazine.
The Professional Use Mobile Safe: a non-loadable magazine-style safe that is easy to lock or unlock in a matter of seconds. Both models were rigorously tested by firearm professionals and are compatible with Glock 17, 19, 19X and 34. Models for additional firearm platforms are on the way.
TRAINING AND CERTIFICATION
Law enforcement professionals frequently take continuing education courses to sharpen their skills and keep up with emerging technology. GOSAFE bolsters proficiency with online training – a series of video modules with GOSAFE-certified acknowledgment upon completion.
BACKED BY INDUSTRY LEADERS
GOSAFE advisors include nationally recognized military, law enforcement and school security leaders. These individuals, along with many GOSAFE advisors, include nationally recognized military, law enforcement and school security leaders. These individuals, along with many others in the firearm industry, were instrumental in product research, development and testing. 
A COMMUNITY-WIDE MISSION TO PROTECT
The company was born to empower mobile firearm security like never before for law enforcement professionals, school resource officers and private gun owners. GOSAFE also offers a non-professional line of products available for civilian use. The organization was founded on a commitment to provide real-world security solutions for all gun owners, which according to the 2021 National Firearms Survey now represents 81.4 million Americans.
Beyond police departments, the goal is to empower every citizen to safely travel with and store their firearms in absolute confidence.